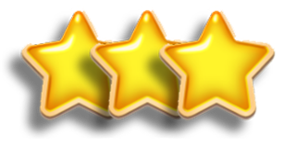 Passing levels in Candy Crush Saga has always had its reward - progression through the adventure
!
Star Chaser is an event that will give you even more rewards for your success, rewarding you for the sparkling achievement stars you collect
!
How does it work?
Whenever you pass levels you collect 1, 2 or 3 stars - visible on the level label on the map screen. In the Star Chaser event, gathering uncollected stars will count toward your collection. Play your latest level or go back to a previous level to see if you can improve on your past success.
How do I take part?
To take part, play the game when the challenge is active in your game. No special map, rules or techniques here for you to worry about. Keep that finger poised and be on the lookout for the chances to score extra stars. As you play, your scores will
be updated
on the leaderboard so you can see how you're doing. To win the final boosters you'll need to be right up there in those top ranks! Be sure to keep an eye on the timer for the event too, so you can maximize your chances and beat the deadline!
When will I see it?
As with our challenges and events, they're not set by a schedule or calendar. We like to keep things varied and fun - so keep checking your game and notifications from time to time and jump on in!
What if others can play it and I can't?
To keep the Star Chaser accessible and available for everyone, sometimes you might have access to it and your friends may not, or vice-versa
. This is so that everyone gets to play. Keep in mind, you may have it when they don't too - so jump in whenever you get the chance.