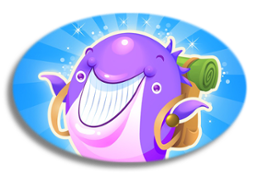 Dexter is unstoppable when it comes to exploration and adventure.  Land, sea, air and space hold no bounds for the wandering whale!
With your help, he can continue on-course to new horizons and you'll get some sweet treats in return!
How does it work?
Associated contest events will have an overall progression leaderboard, which will track your progress in the ranks of other players worldwide.  The outcome of your position in the leaderboard could add some tasty extras to your game, but will also offer you the chance to move up from one league to the next!
Players who place amongst the highest any final leaderboard will win a ticket to the next league and a brand new leaderboard.  Each leaderboard offers higher value prizes than the last, so set your eyes on the prize and keep crushing!
What do I do?
When the events are active, you'll see a pop-up notification in your game.  Don't worry if you miss it though if you want to check back or need to look at it again after the pop-up is gone, you just need to tap your events tab on the game map to see where you stand.
Find the Events Tab by tapping the Trophy icon on the right of the map screen and any active event in your game will be listed underneath.  
Any event included as part of the league will be listed and you'll be able to check the challenge and what needs to be done to help improve your score.  Keep playing the game you know so well and you'll be on to a winner!
What can I win?
Highest scoring players who appear at the top of the leaderboard when the event ends will receive a hoard of awesome boosters.  Perfect for those tricky moments in any level of the game.  Life-saver!  Top scorers also receive a ticket, which grants them access to the next league table and potential higher-value rewards!  Treasurable!
When can I take part?
Dexter is a whimsical whale, so it will vary from time to time, and slots in around other events that might be running in the Candy Crush Saga universe.  We do have a wealth of other ways to win in our game, so we'll keep it as frequent as possible!
You'll get an in-game prompt to let you know it's begun but if you miss it, you can always tap the Trophy icon and to check whether it's running in your game.
What if others can play it and I can't?
In order to keep the events and challenges accessible and available for everyone, sometimes you might have access to it and your friends may not, or vice-versa.  This is so that everyone gets to play as many features as is manageable.  Keep in mind, you may have it when they don't too - so jump in whenever you get the chance!