'C' Candies can 'charge up' your Sugar Track!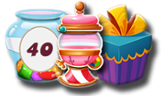 The Sugar Track is a circular loop of rich rewards. It exchanges collected special Sugar Drop Candies for prizes. Collect them in your Candy Jar and the Sugar Track will blend up a regular delivery of items you can use in your game.
What is the Sugar Track?
When playing the regular map levels Candy Crush Saga, you'll find labeled Sugar Drop Candies, covered with a wrapper marked 'C'. Match these Candies in the game and they'll drop into your Candy Jar located at the bottom of the screen. Here they'll hold until you reach the point where it's time to exchange them in the Sugar Track.
You can see how many Sugar Drop Candies you'll need to collect, shown on the label on the jar. Once you reach the number
automatically
take you to exchange them.
At the Sugar Track, you'll see 'milestone markers'.
These show the number of Candies you'll need to deposit and the hopper will blend up your delicious reward
.
Boosters, Extra Lives, and precious Gold Bars can
be won
, so seek out those chances to fill the jar and the Sugar Track will do the rest
.
How do I take part?
To take part, play the game in your familiar (and excellent!) way. No special map, rules or techniques here for you to worry about.
Keep that sweet-switching finger poised and be on the lookout for the Sugar Drop Candies that appear with the 'C' wrapper around them
. Match them, collect them, then wait for the Sugar Track to gobble them up and deliver your prize.
When will I see it?
The Sugar Track has two phases.
Active
phase and
Cooldown
phase.
When it's

active

, you'll see extra information on the Candy World map.
Any game level numbers which contain Sugar Drop Candies will feature a letter 'C' on them, so you know you'll have a chance to collect
. Match them in your level attempt and they'll go straight to your Jar.
When it's the

c
ooldown
, you will no longer see the special Sugar Drop Candies while the Sugar Track hopper has a chance to recharge
. This cooldown occurs immediately after you've had a delivery from the Sugar Track. Keep playing while the cooldown passes and soon it'll be time to start gathering again.
What if others can play it and I can't?
As with all our extra features, sometimes they'll be down for maintenance or won't be available but something else will be in-play instead
.
We'll always make sure you have ways to win free prizes, so keep checking in and make the most of the options whenever they appear
!