Making your move in Candy Crush Saga is simple. Switch the position of two Candies to make a match three or more in a horizontal or vertical line.
First, tap the Candy you'd like to move and then drag it in the direction you'd like to take it. Dragging it will switch it with the Candy already in that spot.
If it forms a match in the new position, then pop! The Candies vanish, with a satisfying crunch! More Candies will then drop down into the empty spaces, ready for your next move. Tasty!
Once you have the hang of switching the Candies, the challenge is ahead to make sure you clear them with as few moves as possible. Keep an eye on the moves meter because you'll need to make sure you reach your goal before they run out.
Pro tip: Each level has a goal that might change from one level to the next. When shown the pre-level screen, look out for the icon on the left, next to the 'Play' button (shown in the image below). Tap it and you'll see what you need to achieve to pass the level.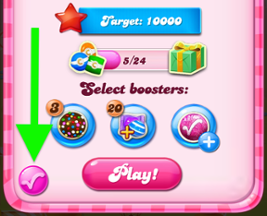 You'll also get a chance to add 'pre-game boosters' to help you meet the goal.
Try using some boosters in your game.  Some of them will trigger their action automatically so sit back and watch the fireworks!
Some others will need you to select where you'd like to use them. For example, with the Candy Hammer, tap the hammer and then tap the spot on the board you'd like to use it. Whack! The chosen Candy will be removed from the board.
Try them out and see how they work for you!